How to Upload PDF to WordPress (step-by-step
Andy Feliciotti
Tuesday, Aug 15, 2023
Are you wondering how to upload PDF files to your WordPress site?
You're in luck!
WordPress makes it easy to upload PDF files and make them available for download. Whether you want to grow your email subscribers, accept user-generated content, or create a members-only area, uploading PDF files can help you achieve these goals.
Benefits of Uploading PDF Files in WordPress
There are several benefits to uploading PDF files on your WordPress website. First, you can repurpose your existing content by converting long guides and tutorials into PDF files. This allows you to offer exclusive content to your users or use it to build an email list.
Second, uploading PDF files can boost user engagement and help lower the bounce rate. By allowing visitors to download PDF files and complete an action, you can easily reduce your website's bounce rate.
Finally, you can use PDF files to offer exclusive members-only premium content for your paying subscribers. This is particularly useful if you have a course or membership site.
Now let's dive into uploading a PDF to WordPress.
How to Upload PDF Files in WordPress
Uploading PDF files in WordPress is a straightforward process and doesn't require any plugins.
1. Log in to your WordPress admin area.
2. From here go to "Media" and click on the "Add New" button.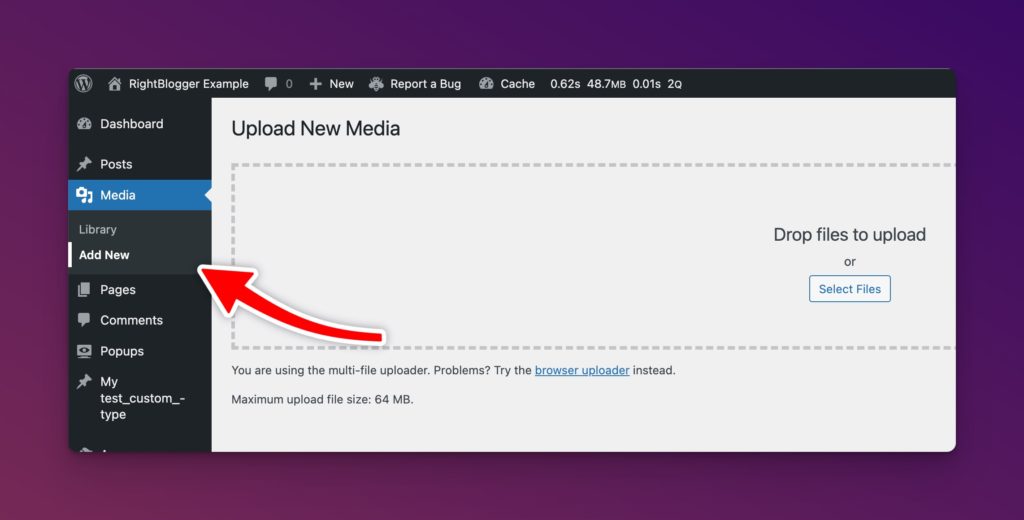 3. Drag and drop your PDF file into the WordPress media library, or click on the "Select Files" button to upload it.
4. Once the upload is complete, your PDF file will be available on your WordPress site. You can also click the copy URL to clipboard to get your newly uploaded PDF URL.
How to Add a PDF File to a Post or Page in WordPress
After uploading your PDF file, you'll want to add it to your posts or pages. WordPress offers two options for displaying PDF files: embedding them or providing a download link.
First let's go over how to embed a PDF in WordPress
1. Edit the post or page where you want to add the PDF file.
2. Click on the "+" block button to add a new block.
3. Select the "File" block from the options.
4. Click on the "Media Library" option to choose your uploaded PDF file.
5. Once you've selected the file, click "Select" to continue.
WordPress will automatically embed the PDF file in your post or page. You can see a live preview of the embedded PDF in the editor.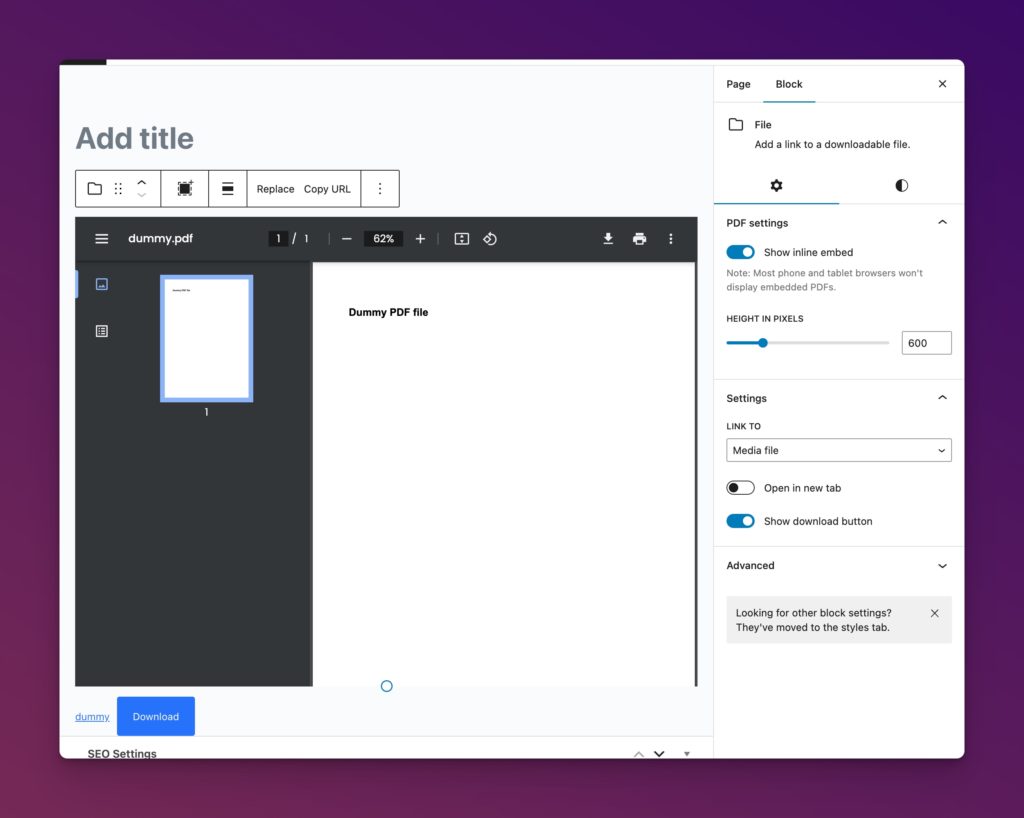 If you prefer to show a download link instead of embedding the full PDF, you can turn off the "Show inline embed" option in the block settings.
Preview the changes and, if you're satisfied, publish the post or page.
You can also link to a PDF by copying the PDF URL from the Media tab of your admin.
This is done by using going to the "Media" tab in the WordPress dashboard.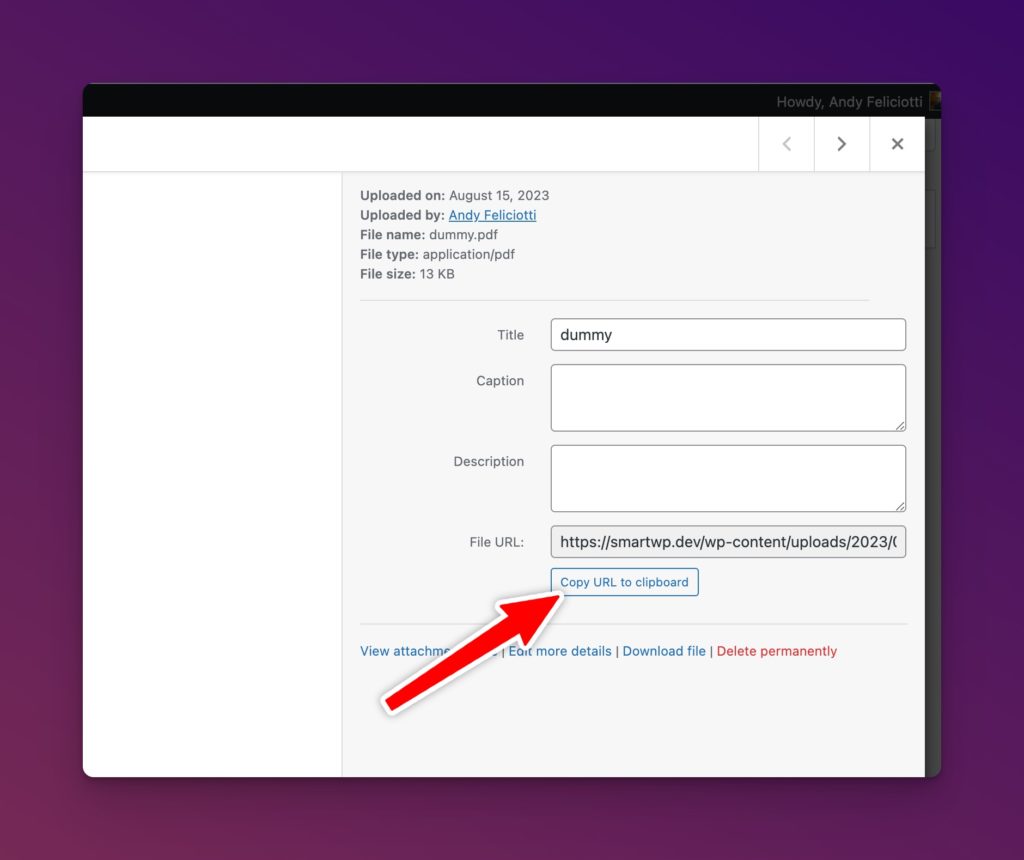 From here find your PDF, after clicking on it you can select to copy the URL to the PDF in the media browser.
After you have the link in your clipboard you can simply paste the URL anywhere you would normally in WordPress.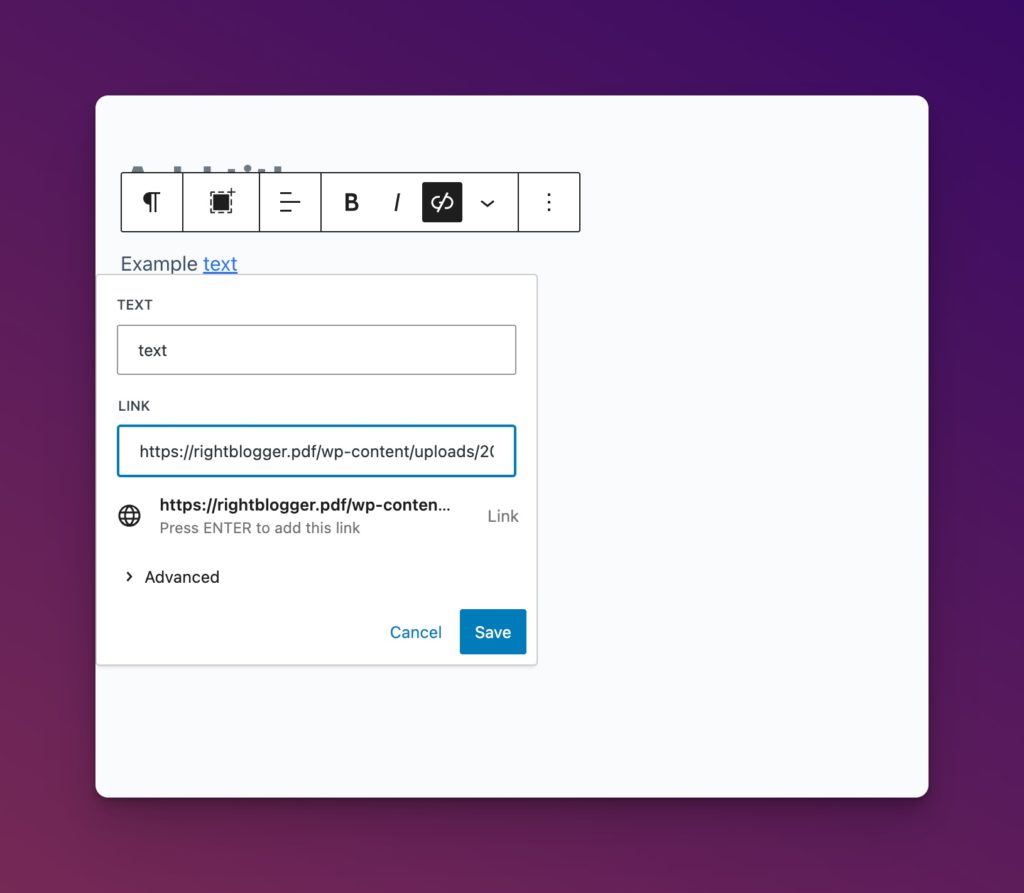 ---
By following these steps, you can quickly and easily showcase your uploaded PDF files on your WordPress site. However, if you want more advanced features and better PDF viewers, consider using a WordPress PDF plugin.
Now that you know how to upload PDF files to WordPress, you can take advantage of this feature to enhance your website's content and engage your audience.
Start uploading and sharing your PDF files today!
Written by Andy Feliciotti
RightBlogger Co-Founder